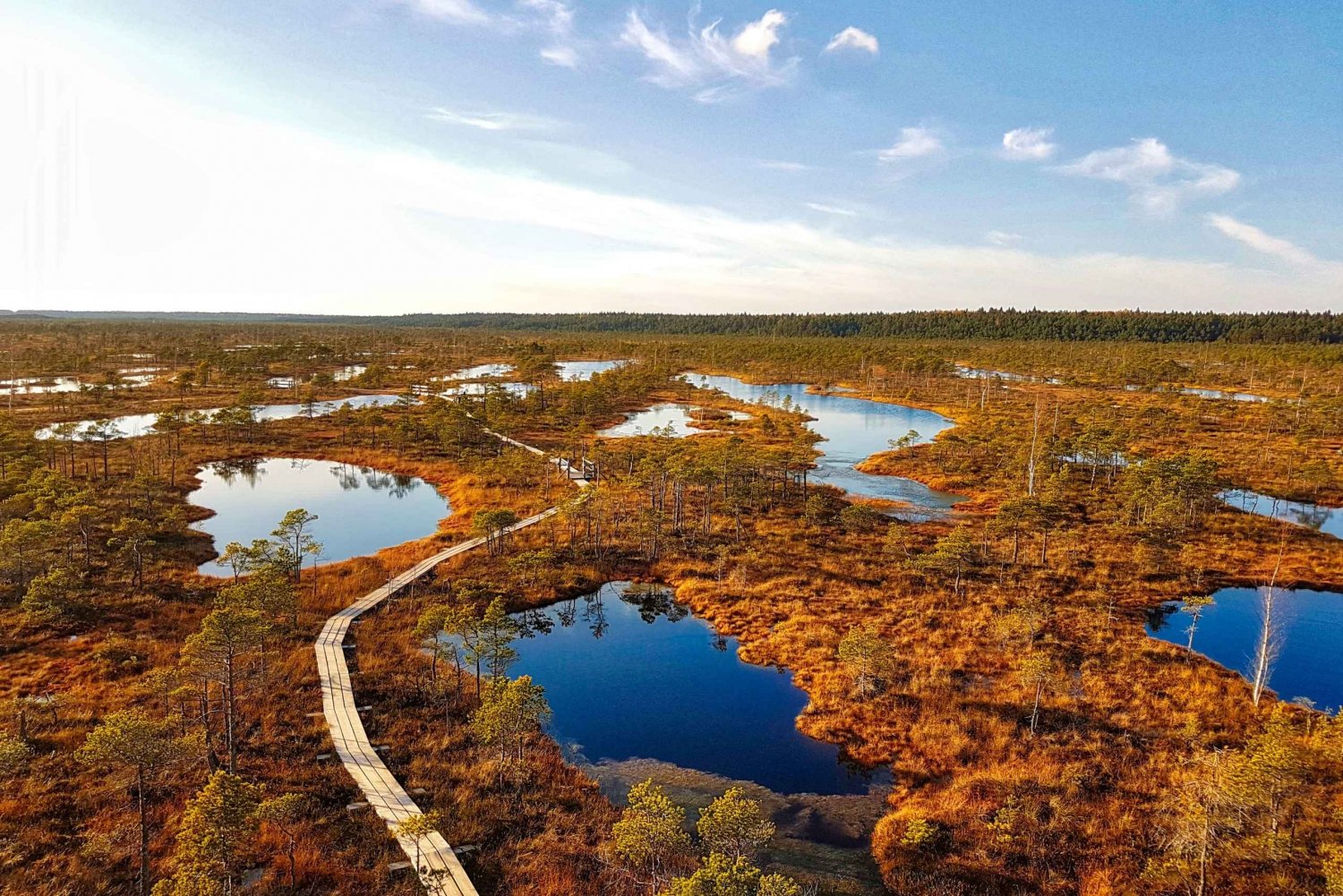 Event Details
Highlights
Hike in the boglands of Kemeri National Park: Take a morning walk on the famous Great Kemeri Bog Boardwalk
Visit the unique Lake Kaņieris and admire the view from the bird watching tower
Learn about the culture and traditions of Latvia
Enjoy a special improv-travel approach
Visit real natural wet forest of Northern Europe
Description
Start your morning with a convenient, pick-up service from your accommodation in Riga. Here, your friendly driver and guide will be waiting to meet you. After a quick chat with one another, you'll be hopping aboard your vehicle and setting off for your destination of the day - the Kemeri National Park.  Attractions you will visit: Great Ķemeri Bog: Enjoy the benefits of a day beginning with physical activity and experience a picturesque hike on the famous Great Ķemeri Bog boardwalk upon arrival at the National Park. · Unique Lagoon Lake Kaņieris: After the inspiring morning improv-hike in Kemeri boglands, you will visit the amazing Kanieris Lake and one of its bird watching towers. This big shallow lake is an amazing former lagoon of the prehistoric Littorina Sea. It is very close to the Gulf Of Riga. Kanieris Lake is an important stop-over place for migratory birds. During migration periods (April-May and August-October) it becomes a paradise for birdwatchers as it hosts more than 190-species of birds. It's also an important breeding place for the local birds. Nature trails along the banks of this lake go through various unique protected ecosystems (habitats) and can be a great place for you to spot wildlife. · Ķemeri forests: Now it is time to have glimpse on the unique wet forests of Ķemeri National Park and their natural values including the famous Sulphur springs. · Sandy beach of the Gulf of Riga: Before heading back to Riga you will enjoy the fresh air of the stunning sandy seaside and costal pine forests of the Gulf of Riga · Soak up the energy of this unique pristine Latvian location before heading back to your accommodation in Riga for an evening of rest.
Includes
Roundtrip transfer from Riga Around 7 hour guided tour in Kemeri National Park (including transfer time) Local snacks Knowledgeable eco-tour leader Improv-travel approach for the groups of 2 people and more
Important Information
Bring your daily snacks and drinks with you
Wear comfortable shoes suitable for walking in nature
Be prepared for different weather conditions
All the tours are small group adventures
Tours are narrated in English, Russian and Latvian; please indicate your preferred language during booking
Easy cancellation
Cancel up to 24 hours in advance for a full refund
Save up to 10%

Reserve Your Experience

From €195.00

€175.50

Buy Tickets!